Thought I may as well reblog the whole thing..

A lot of it echoes what is in the Dispirited book – as does the reaction to it!
CNN Belief Blog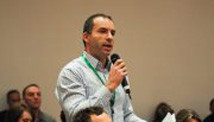 By Alan Miller, Special to CNN
Editor's note: Alan Miller is Director of The New York Salon and Co-Founder of London's Old Truman Brewery. He is speaking at The Battle of Ideas at London's Barbican in October.
By Alan Miller, Special to CNN
The increasingly common refrain that "I'm spiritual, but not religious," represents some of the most retrogressive aspects of contemporary society. The spiritual but not religious "movement" — an inappropriate term as that would suggest some collective, organizational aspect — highlights the implosion of belief that has struck at the heart of Western society.
Spiritual but not religious people are especially prevalent in the younger population in the United States, although a recent study has argued that it is not so much that people have stopped believing in God, but rather have drifted from formal institutions.
View original post 724 more words